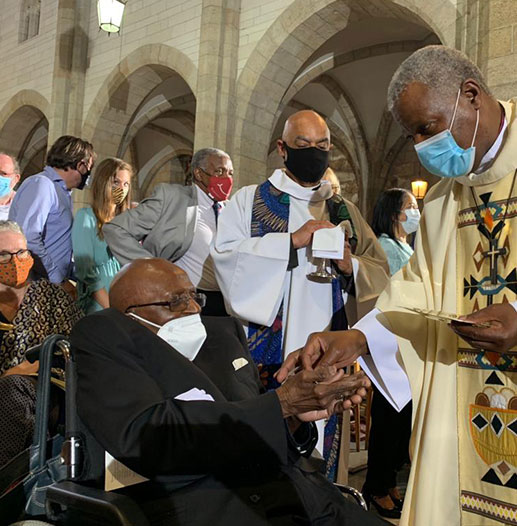 CAPE TOWN, South Africa, 7 October 2021: Archbishop Emeritus Desmond Tutu celebrated his 90th birthday surrounded by family, close friends and colleagues at a special communion service at his beloved St George's Cathedral.
The sermon was presented by his old anti-apartheid struggle comrade, Dr Allan Boesak, and a message from President Cyril Ramaphosa was read to the congregation by a team of Arch's children and grandchildren.
The Arch's longevity and strength – and his everlasting love of all people and justice – have been rich and enduring blessings to his family, his country and the world.
He quite literally confounded medical logic to reach his 10th decade, overcoming polio and severe tuberculosis in his childhood, and living with cancer for more than 20 years. Until three or four years ago he maintained a punishing schedule, continuing to travel widely and speak out for justice.
Now, after threatening to do so for decades, he has finally withdrawn from public life. Few would argue he has earned a rest.
Happy birthday Arch.